Bungee Trampolines
Why not hire or request our bungee trampolines for your event?
Our bungee trampolines are one of the most popular activities for kids of all ages. Complete with the latest LED lighting, our bungee trampolines are sure to stand out and give your event the WOW factor. Our bungee trampolines are trailer mounted so this means we can set up four times as fast as other regular bungee trampoline sets.
Swing Boats
Our ever popular Swing Boats, continue to thrill the younger generation to this day, A staple of fairgrounds and Seaside resorts in days gone by...Pure simple green entertainment!
The harder you pull the higher you go !
Crazy Golf
Our 9 hole crazy golf course is supplied with adult and junior putters together with low bounce balls for additional safety and can accommodate up to 18 players at a time. Our Portable Crazy Golf Course represents an attraction that can entertain a very large number of people of widely differing ages at the same time. Our hire service is available for all types of events and can also be decorated to fit any season or theme.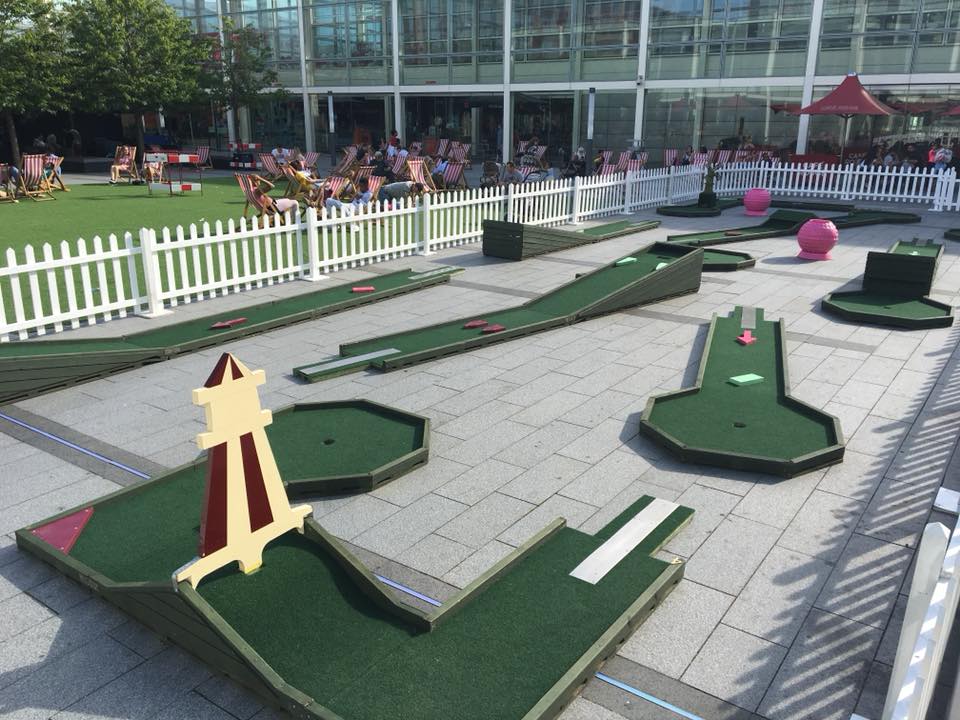 Activity Train
Our Circus Inflatable Train will provide fun and excitement all day long! Featuring beautiful graphics and inflatable characters, the train is an inflatable obstacle course. The structure and slide are inflated while the floor is not, this unit also has several clear vinyl holes for children to peek through and see their parents and friends.
Zorbs
Zorbs are one of the most popular activities; they offer safe fun with adrenaline-filled excitement, making them a top choice for any event. Once inside the large inflatable zorb participants negotiate our inflated zorb course, propelling their Zorb by moving their body weight to make the ball roll in their chosen direction. The inflatable course is wide enough to allow participants to race around against each other. Zorbing is the perfect activity for any fun day, competition or team building activity.